Going Somewhere, Need More Space?
Welcome to Badger Fibreglass Trailers!
Are you in the market for a custom manufactured trailer, which will meet all your needs, then Badger Fibreglass Trailers is for you!
Badger Fibreglass trailers are aero-dynamically designed and are therefore stylish, practical, lightweight, strong and offer excellent value for money, they also carry a 2 year factory warranty.
The design of the Badger trailers is aimed at stability and easy handling. Because of the aero-dynamical design there is almost no wind resistance and this ensures a safe journey.
The overall petrol consumption of the vehicle is hardly affected by towing the Badger trailer.
2 different fibreglass models and various other trailers to choose from.



The Badger Junior, which has a 460kg loading capacity;



The Badger Sport, which has a loading capacity of 610kg.
Badger trailers can be custom sprayed to fit or complement the colour of your towing vehicle.
For top quality, strong and aerodynamic fibreglass trailers contact Badger Trailers today!
Our Range of Services
Badger trailers can make a custom trailer to match your individual needs:

Badger Trailer Services

View the custom trailers which badger has built for other clients:

Custom Trailers

Take a look at our Trailers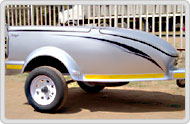 Click Here to View our Trailers